Photoshoot locations in North brisbane
Locations for Family photography Brisbane Northside
Outdoor family photos provide great backdrops to make a beautiful family portrait. If you're looking for a location for Family Photography Brisbane Northside there are a few to choose from.
From stunning beaches, lush parklands, serene lakeside settings to beautiful flower gardens Brisbane's north offers a wealth of photo op locations. Or if you'd prefer to stay away from the crowds, there are plenty of leafy suburbs scattered throughout the area that are perfect for relaxed family portraits.Here are a few of my favourite locations.
The Redcliffe Peninsula is a popular location on Brisbane's Northside for a family beach photos. There are a couple of beaches in Redcliffe to choose from but I like Sutton' Beach. It has a lovely, gentle curved beach, a little rocky area and gets a gorgeous golden light that comes through the trees & buildings, at sunset. Beach family photos are great for those casual, fun family group photos.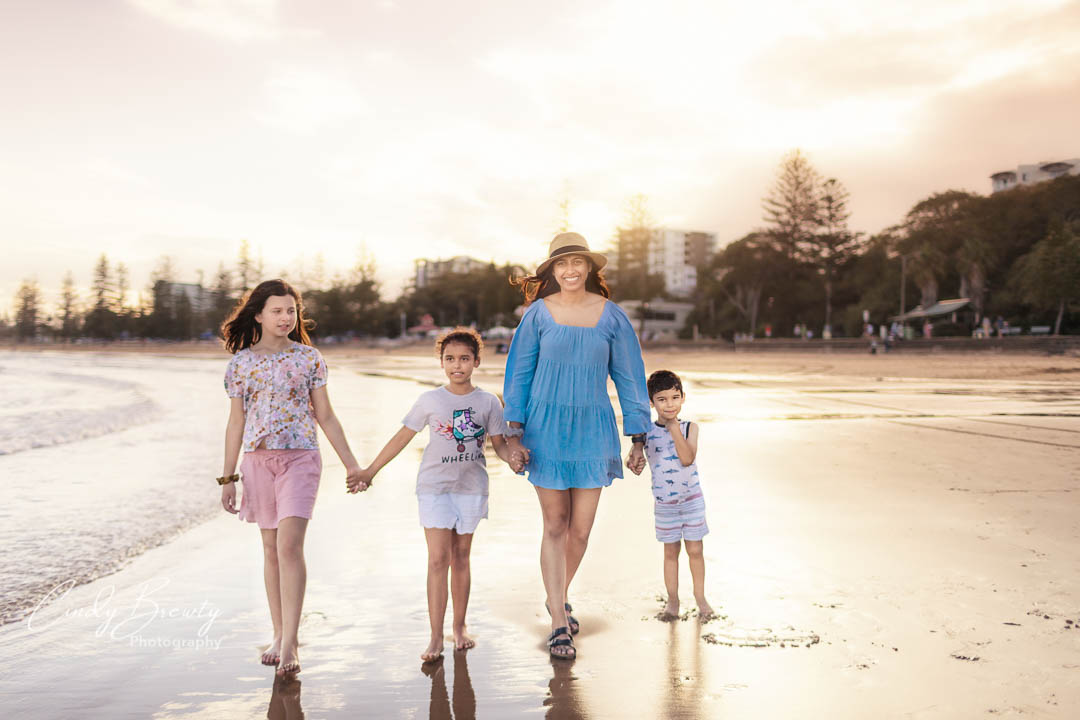 Shorncliffe beach & Pier
This is a versatile North Brisbane Portrait location because it offers a variety of little spots on the beach, or on the jetty, in the trees or the on the rock wall. It is a popular location for both family photography & wedding photography. Because of this range of spots it's also possible to have a family photoshoot session either in the morning or afternoon. Shorncliffe Pier (also known as Moora Park) is most gorgeous in the afternoon around sunset, however there tends to be a lot of people around in the evening so could be unsuitable for families that are a little bit on the shy side.
Lake Samsonvale or North Pine Dam
This is another beautiful scenic location for Family photography Brisbane northside. With a lake & mountain view backgrounds its quiet & breath taking at sunset. It is large enough to provide space for some privacy & offers a variety of little spots that are would make a beautiful setting to your family photos. Lake Samsonvale offers a few ideal spots for photography – it has the spots along the lake itself, or in shaded grassy areas which has the light coming through the trees.
Family photography Brisbane northside – closer to the city
Places closer to the city are New Farm park, Roma street parklands, Southbank Parklands and even Kangaroo point for a more urban feel.
This stunning park offers plenty of photo opportunities, from the beautiful rose gardens, to big old fig trees & the river bank. New Farm Park is also not far from the old Powerhouse which has rustic old brick walls & old doorways that make interesting minimalist looking backdrops to both family photography & wedding photography.
Brisbane is a beautiful city, with plenty of parks and gardens to explore. One of my favourite gardens is the Roma Street parklands. It has a variety of spots that are great fo family photography. This park is home to a lush rainforest, an enchanting lake area, and the flower filled spectacle garden. There are also plenty of places to sit and relax, making it the perfect spot for a family outing.It also has on site parking & street parking. However, they do have major festivals & events at this popular park, so make to check the date on their website.
If you are looking for a Brisbane family photographer or would like to have a look at some of my work, please have a look at my family page on my website via the link below. Or if you would like to book a family photography session , please feel free to get in touch with me.